Products supported by our Osteopaths
At St Kilda Osteopathy we pride ourselves on having a comprehensive range of products to complement our osteopathic services. Our products are carefully selected by our experienced practitioners to ensure the highest possible quality to help speed up your recovery and bring about your optimal health and well-being.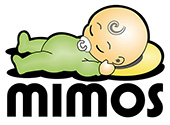 Mimos Baby Safe Pillows
Mimos pillows are a specially designed and engineered pillow for babies to aid in the prevention and correction of Plagiocephaly and Brachycephaly, also known as Flat Head Syndrome.
Plagoicephaly is where there is a partial flattening on one side of the head/skull.
Brachycephaly is a flattening of the back of the head creating that creates a wide/flat appearance.
The cause of flat head syndrome can be from a number of reasons which may include:
- Birth; moving through the birth canal the baby's skull is exposed to external pressures and cause compression unevenly on the skull,
- Birth trauma; with the use of forceps or ventouse delivery, creating strains on the tissues around the skull
- Being in the one position for a long period of time ie, babies spend most time lying on their backs, 
- Torticollis or Wry neck; this is where the muscles on one side of the neck are in spasm and shortened which causes the head to rotate to one direction and position constantly therefore affecting the shape of the skull and hence lead to plagiocephaly.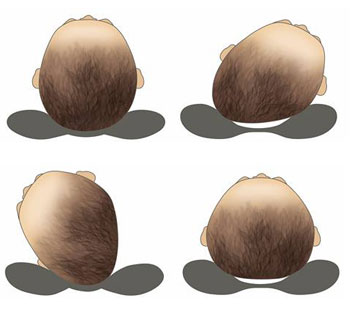 The pillow's specialty design reduces pressure by 400% on the skull and encourages healthy head movement. The fabric is breathable and the pillow is antiallergic and safe for contact with the skin. The gap in the pillow allows for the baby's head to be alleviated of any pressure, and be in a more natural shape rather than have the external surface of the mattress/pram/play-mat forces pushing into the head. It also allows for easy side to side movement of the head which helps muscular strength and mobility for the neck muscles. It is most effective for babies from birth to 6 months of age.
We will also discuss the safe use of the pillow, adhering to SIDS guidelines,  referral to a paediatric specialist or referral for a cranial remodelling helmet if required.
References:
BioCeuticals
St Kilda Osteopathy has a wide range of BioCeuticals products for you. We choose to stock BioCeuticals products because their focus is to enable you to live a happier, healthier and more productive life with top quality and effective nutritional supplements. 

Why choose BioCeuticals?
BioCeuticals is Australia's leading provider of nutritional and therapeutic supplements.

BioCeuticals products contain only the highest quality raw materials in the safest, most effective formulations to create superior results.

BioCeuticals products are practitioner-only products, so they always come with quality practitioner advice.
We have many products available for a range of different conditions including:
joint disorders

general health

muscle soreness

fatigue

women's health… and many more.
Some of our more popular products are listed below. If there is a particular product you require that we don't stock, please let us know as we can order these products specifically for you.

Please note:
Always read the label and use only as directed. If symptoms persist, see your Doctor or health care professional.
Vitamin Supplements may be of assistance if dietary intake is inadequate.
Ultra Muscleze & Musclease P5P

Magnesium is an important mineral that is essential for healthy heart function, energy production, maintaining bone strength, immunity and muscle activity. 

Despite being found in a range of foods, many Australians fail to meet the daily recommended intake for magnesium. Magnesium deficiency has been linked to:
cardiovascular disease
muscular complaints
osteoporosis
premenstrual syndrome (PMS)
behavioural problems
Benefits of BioCeuticals magnesium supplements:
Bioceuticals magnesium supplements can help with muscle tightness and cramping, as well as digestive issues.
BioCeuticals products contain UltraMag, a specialised mineral delivery system that enhances absorption and intestinal tolerance of magnesium.
BioCeuticals produces magnesium supplements in tablet and powder forms to help meet your needs.
BioCeuticals magnesium supplements taste great and are sweetened with stevia leaf extract.
Please see attached article from Bioceuticals:
https://www.bioceuticals.com.au/education/article/magnesium-the-heart-hero-mineral-for-day-and-night
UltraClean EPA/DHA Plus (FISH OIL)

Omega-3 fatty acids are important for normal healthy growth and development. The typical Australian diet is too low in omega-3 oils. A deficiency of omega-3 fatty acids has been associated with an increased risk of several conditions including:

arthritis
inflammatory disorders
heart disease
depression
Benefits of Bioceuticals UltraClean EPA/DHA Plus:

Delivers a highly concentrated dose of omega-3 polyunsaturated fatty acids: 300mg of eicosapentaenoic acid (EPA) and 200mg of docosahexaenoic acid (DHA).
Contains pharmaceutical grade fish oil that is highly stable.
Exceeds quality standards regarding acceptable levels for common contaminants including lead and mercury.
Capsules are enteric-coated and flavoured with vanillin to minimise aftertaste.
Added vitamin E provides antioxidant activity.
D3 Drops Forte

Vitamin D plays an intrinsic role in calcium metabolism, the immune and nervous systems, bone, heart and kidney health. The working group of the Australian and New Zealand Bone and Mineral Society, Endocrine Society of Australia and Osteoporosis Australia state that a significant number of Australians are deficient in vitamin D.

Benefits of Bioceuticals D3 Drops Forte:
An economical and highly effective solution to restore normal vitamin D levels.
Provides high dose vitamin D in an oil emulsion to facilitate faster absorption.
Suitable for those who have difficulty swallowing tablets and capsules.
Drops have a pleasant vanilla taste and may be mixed in a glass of water or placed directly on the tongue.
ArthroGuard

Glucosamine and chondroitin help maintain healthy joints and improve mobility. Glucosamine sulphate provides nutritional support for the metabolism and repair of joints and cartilage. Chondroitin sulphate is a glycosaminoglycan, which is an essential constituent of cartilage and other connective tissues. Bioceuticals ArthroGuard assists in healthy joint function and may assist in the reduction of mild knee pain.

Benefits of Bioceuticals ArthroGuard:
May provide temporary relief from joint pain in osteoarthritis.
May help improve joint tenderness and swelling.
Provides the building blocks required to help increase joint mobility.
Contains bromelains which have anti-inflammatory properties.
Multi Essentials

Bioceuticals Multi Essentials is a daily multivitamin and mineral supplement that establishes a foundation for nutrition. It is formulated to provide a comprehensive range of nutrients including high levels of B vitamins, antioxidants and a broad mineral base.

Benefits of Bioceuticals Multi Essentials:
Supplies a high level vitamin B complex.
Contains antioxidants and a broad base of minerals including zinc and copper.
Formulated with calcium, vitamin K and boron.
Easy to swallow, scored tablets that may be broken in half.
Women's Essentials

Bioceuticals Women's Essentials is a comprehensive multivitamin and mineral formula that provides nutritional support for key women's concerns including thyroid function, healthy glucose metabolism and bone health.

Benefits of Bioceuticals Women's Essentials:
Contains choline and B group vitamins to boost nervous system health and reduce stress.
Provides immune supporting nutrients including vitamins A, C and D3, as well as zinc and selenium for their antioxidant activity.
Promotes healthy liver metabolism with the lipotropic nutrient factors choline, inositol and vitamin B12.
Supports healthy skin by incorporating selenium, zinc and vitamins A, C, D3 and E.
Formulated with the herbal extracts withania, a traditional Ayurvedic restorative tonic, and pomegranate seeds, a rich source of antioxidants.
InNatal

Bioceuticals InNatal multinutrient formula provides optimal nutritional support throughout preconception, pregnancy, breastfeeding and the postnatal recovery stage. It contains a broad range of vitamins and minerals selected based on extensive research, to assist in meeting the additional requirements of women planning a healthy conception, and throughout pregnancy and breastfeeding.

Benefits of Bioceuticals InNatal:
Formulated to provide key nutrients for pregnancy including vitamin D3, choline, zinc and the B group vitamins.
Contains iodine which is essential for normal healthy growth and cognitive development of the baby, as well as thyroid hormone synthesis.
The recommended daily dose provides 500mcg of folic acid which may help reduce the risk of neural tube defects when taken in preconception and throughout early pregnancy.
Provides an extensive array of nutrients that are natural components of human breast milk.
Fisiocrem SOLUGEL

If you've seen us at St Kilda Osteopathy, chances are you've experienced Fisiocrem during your treatment. Containing a special combination of natural plant extracts, Fisiocrem may provide relief from the symptomatic pain and aggravation associated with common muscle, joint and soft tissue trauma.

What's in it?
Fisiocrem contains high levels of natural plant extracts including:

Arnica Montana – when applied topically, Arnica herb extracts are extremely useful in treating soft tissue injuries and for assisting recovery from bruising.

Hypericum perforatum – commonly known as "St John's Wort", the active components of this plant have long been used to soothe damaged and irritated nerves commonly associated with whiplash, lower back pain, sciatica, strains and sprains.

Calendula officinalis – herb extracts play an important role as a topical anti-inflammatory, assisting the dispersion of swelling, and providing relief to inflamed localised tissues.

Melaleuca alternifolia – in clinical trials, Australian tea tree oil has been shown to be effective in topical pain relief and for its anti-inflammatory actions.

Why use it?
When Fisiocrem is applied to the skin, the gentle rubbing rapidly releases the active plant ingredients providing you with:
relief from tight muscles at the end of a busy day
reduced joint and muscular pain
quicker recovery from soft tissue trauma such as bumps and bruises
Who can use it?
Fisiocrem is a completely natural product that may be used in conjunction with pharmaceutical medicines and other osteopathic treatments. It is suitable for anyone to use including athletes, children, elderly, and pregnant and breast feeding mothers.
Therapeutic Pillows
You spend about one-third of your life with your head on a pillow, so it's vital to choose the right one to keep your neck and shoulders in good shape. At St Kilda Osteopathy we stock a range of therapeutic pillows. Unlike traditional pillows which provide inadequate support for your neck during sleep, therapeutic pillows are made from material that is both comfortable to sleep on whilst providing proper neck support. Our range of therapeutic pillows hold their shape and fill the spaces underneath your neck as you lie down, promoting a straight neck and spine, and good posture as you sleep. Ask us about our range of therapeutic pillows and wake up feeling rejuvenated.


Hotteeze Heat Pads - they are a best seller!!

Heat therapy has long been used for its therapeutic effects, including:
decreased joint stiffness
pain reduction
relief from muscle spasms
reduced inflammation
increased blood flow to promote better healing

What are Hotteeze Heat Pads?
Hotteeze Heat Pads are stick-on heat pads that contain iron powder, water, vermiculite, carbon and salt. When you open a Hotteeze, the iron oxidises with the air creating heat. Simply stick the Hotteeze to your undergarments where heat is required and leave it there for up to 12 hours.

What are the benefits?
Hotteeze Heat Pads are great for the temporary relief of muscular aches and pains, period pain, or anytime you feel the cold. If you find wheat bags and hot water bottles bulky and visible, you may find Hotteeze a great alternative because:

they are discreet and portable
they last up to 12 hours
they are thin, comfortable, self-adhesive and ultra light
they are completely odourless